Char-Broil Gas Patio Caddie
July 23, 2009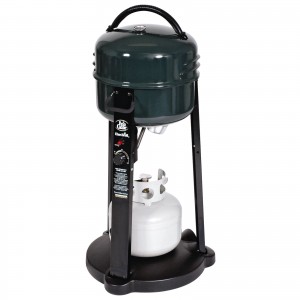 The Char-Broil Gas Patio Caddie is well suited for people that want to be able to cook with gas but might not have much space or need for a larger conventional grill.
With 187 total square inches of cooking space, you'll have plenty of room to cook for a handful of people without sacrificing any precious outdoor space. The Char-Broil Gas Patio Caddie pushes out 10,000 BTU's of power so there'll be no shortage of heat to cook for yourself or your friends. Just because the Patio Caddie doesn't look like your typical grill, it doesn't mean you can't have the luxuries and conveniences of a more expensive and expansive grill. The Char-Broil Gas Patio Caddie comes with a push button ignitor, cast iron heat plate (for heat retention and even distribution), and a protective top.
If you're an apartment dweller with limited outdoor space, a camper, a tailgater, or somebody that just doesn't want their grill being the focal point of their yard, the Char-Broil Gas Patio Caddie could be exactly what you're looking for!
Comments