Char-Broil Quickset Gas Grill
May 27, 2009
The Char-Broil Quickset Gas Grill is a no frills grill that is great for an occasional griller or somebody not looking to invest too much money in a gas grill.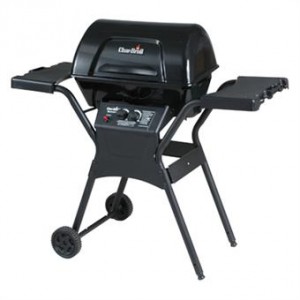 Two stainless steel burners pump out 26,500 BTU's of cooking power.  With a total cooking size of 460 square inches, there is plenty of gas pumping out of the burners to cook a small meal or if you do want to entertain a larger crowd, no worries, you should be able to fit about 24 1/2 pound burgers on the Quickset.  The grates are Porcelain-Coated Steel that make for easy cleanup.  There's an easy push button ignition for quick starting every time.  The Char-Broil Quickset Gas Grill also has a 185 square inch warming rack that's great for warming buns, or keeping your finished food warm while you finish up other foods.
Not everybody needs a huge cooking surface, four burners, side burners, or cooking lights.  If you find yourself looking to grill an occasional meal but don't want to spend too much money, or pay for things you aren't going to need, the Char-Broil Quickset Gas Grill might be the right choice for you.
Where to Buy: GrillsDirect.com
Comments