Char-Broil RED 3 Zone LP Gas Grill
May 12, 2009
The Char-Broil RED 3 Zone LP Gas Grill is the perfect sized grill for medium sized families with lots of cooking options.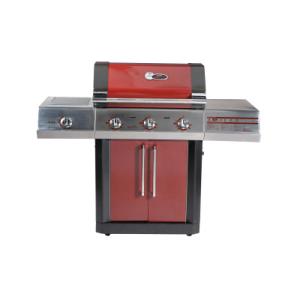 Three stainless steel burners heat up the 750 square inch cooking space (550 square inch primary cooking area).  100% infrared heat helps sear in flavor and keeps your food moist and juicy.  Porcelain-coated, cast-iron cooking grates keep food from sticking and help make your post meal cleanups easier.  You can also use the Char-Broil RED 3 Zone LP Gas Grill as a smoker as well.  Just drop wood chips through the grates and watch them smoke to add a little extra flavor.  A 200 square inch warming rack will help keep your finished food warm while you attend to other dishes, and an integrated push and turn electronic ignition will ensure quick starts. 
Other features of the Char-Broil RED 3 Zone LP Gas Grill that caught my eye were the nice fully enclosed storage cabinet under the cooking area.  A 13,000 – BTU side burner provides you with options to heat sauces, marinades, or other side dishes.  One of the most important features of a grill is how evenly it heats and maintains the temperature.  The Char-Broil RED 3 Zone heats up fast and high temps are no problems when searing steaks and it also has a BBQ setting for low temp cooking. 
If you're looking for a dependable grill from a reputable brand, check out the Char-Broil RED 3 Zone LP Gas Grill.
Comments