Char-Griller Grillin' Pro 4000 Gas Grill
June 8, 2009
The Char-Griller Grillin' Pro 4000 Gas Grill
is a good sized, durable grill, that'll help you bring your backyard meals to the next level.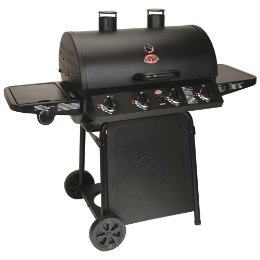 With a total heat output of 54,400 BTU's, the Char-Griller Grillin' Pro 4000 Gas Grill can pump out plenty of heat for all your cooking needs.  A generous primary cooking surface of 580 square inches should be plenty of room to cook all types of food with room to spare.   A 254 square inch, chrome plated warming rack has plenty of room for heating buns or keeping the hot dogs warm while you finish the steaks.  Under the lid there are porcelain-coated cast-iron grates and 4 stainless steel burner tubes.  On one side of the grill there's a large side shelf that can be used as workspace while grilling.  On the other side, there is a 12,000 BTU brass side burner to cook your sauces and marinades.
On this all black grill, there are also utensil hooks for easy storage, dual stacks for even heating and porcelain-coated flame shields.  Char-Griller grills are well known in the professional BBQ community and the Char-Griller Grillin' Pro 4000 Gas Grill will continue in the tradition of quality grill products from Char-Griller.
Where to Buy: GrillsDirect.com
Comments