Gaswatch Propane Level Indicator
July 28, 2009
The Gaswatch Propane Level Indicator is a UL-approved propane level indicator, emergency shut-off device, and built-in leak detector all in one handy gadget!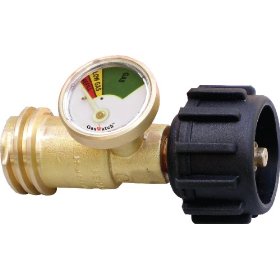 With an easy to read colored dial, the Gaswatch Propane Level Indicator will let you know precisely how much fuel you have so you can avoid those awkward embarassing moments when cooking and running out of fuel.  No more ruined cookouts or throwing away half cooked food!  The Gas Watch Propane Level Indicator works on all types of gas grills (up to 40 lbs), patio heaters, smokers, camping stoves, and other outdoor propane appliances with a QCC Type I connection.  You don't need any tools either, the unit connects between the propane tank and equipment regulater with ease. 
Whether you're an avid griller or an occasional cooker, the Gaswatch Propane Level Indicator is the must have accessory for anybody that uses outdoor propane appliances!
Comments