Griddle Q
June 25, 2009
The Griddle Q
is a revolutionary product that'll expand your outdoor cooking capabilities to places you've never dreamed.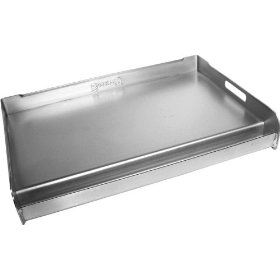 The Griddle Q is a tough 12-gauge stainless steel tray that sits on top of your grilling surface and is perfect for cooking all types of foods like eggs, sausage, bacon, pancakes, and hash browns.  If you're craving something a little different, the Griddle Q will help you cook a great Philly Cheesesteak sandwich on your grill!
Made of rust resistant 430 stainless steel and 12 gauge stainless steel, it'll hold up to all types of heat and wear.  On the back side, there is welded cross bracing for added stability.  For easy transport and movement when the Griddle Q is cool, there are convenient handles cut in the sides.
Depending on your grilling needs and the type of grill you have, the Griddle Q comes in various sizes.  If you're looking to expand your outdoor cooking capabilities and be able to cook all types of foods that you normally wouldn't think of on a grill, check out the Griddle Q!
Where to Buy: GrillsDirect.com
Comments