Sizzle-Q
July 15, 2009
The Sizzle-Q is another great option for outdoor cooking just like the Griddle Q!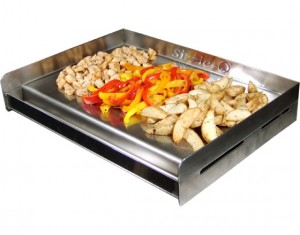 A new, one-size fits all lighter gauge griddle helps meet the needs of more customers.  The Sizzle-Q is made of rust resistant 430 stainless steel and is all 14 gauge construction.  1 1/2 inch formed grease trough to help keep everything neat and clean.  The Sizzle-Q weighs just over 9 pounds and is sturdy thanks to cross bracing underneath.  Side walls allow you to flip and turn food.   The Sizzle-Q also fits 99% of gas grills on the market today. 
If you're looking to expand your outdoor cooking and now want to include pancakes, bacon, eggs, stir fry, hash browns, fish, pizza, and even cookies, check out the Sizzle-Q!
Comments