Weber Spirit E-310 Natural Gas Grill
March 16, 2009
The Weber Spirit E-310 Natural Gas Grill is a no-nonsense grill loaded with features to help get you through the grilling season.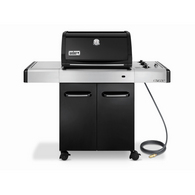 With a total cooking area of 536 square inches, porcelain-enameled cooking grates (to help retain heat), and stainless steel burners, the Weber Spirit E-310 Natural Gas Grill should have everything you're looking for if grilling is in your future.  The 536 square inches of cooking space is spread out over the primary cooking area (424 sq. inches) and the warming rack (112 sq. inches).  The space will give you enough room to cook about 30 1/2 pound burgers at a time! 
A few other key features of the Weber Spirit E310 Natural Gas Grill that we enjoyed were the 6 tool hooks on the side of the grill to store all your accessories.  Also, the stainless steel shelf on the left side was spacious enough for all prep work.  Weber also designed an Electronic Crossover Ignition to help cut back on the abuse that a normal grill's igniter goes through. 
If you're looking for Weber quality and a grill that has everything you need an nothing you don't, look no further than the Weber Spirit E-310 Natural Gas Grill. 
Comments