July 13, 2009
The Camp Chef Pro 60 is far from your typical camping stove.  It's a portable perfect cooking system for your backyard, camping, tailgating, or any other outdoor gathering.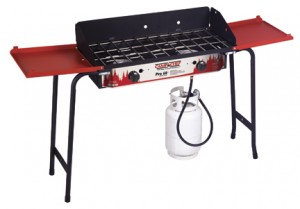 With 2 burners and 30,000 BTU's per burner, you'll have plenty of heat to cook anything you can dream up.  The cooking surface measures a large 448 square inches.  The Camp Chef Pro 60 makes cooking for large crowds and small groups a breeze.  Add a griddle to make pancakes, grilled cheese, or a full breakfast.  A bbq-grilling accesory for sizzling steaks and burgers. 
The burners are made of cast iron, deluxe folding legs, a 31 inch cooking height, folding side shelves, and a three sided windscreen top off the included accessories of the Camp Chef Pro 60.  If you're looking for a portable grill that's larger than most camp style grills, check out the Camp Chef Pro 60!