June 5, 2009
The Ducane Meridian Gas Grill
is an attractive stainless steel grill that should satisfy most of your grilling needs.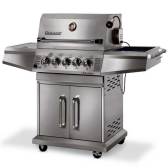 36,000 BTU's flow through three stainless steel burners and should be enough power for you to cook for large crowds or cook up a quick bite to eat for one.  There is a generous total cooking area of 480 square inches.  There is also the all important 144 square inch warming rack.  Stainless steel cooking grates made with 5/16-inch rods and stainless steel heat distribution plates.  If you like cooking side dishes or sauces while keeping an eye on your food that's grilling, there is a 12,000 BTU side burner with a stainless steel cover.
The Ducane Meridian Gas Grill also comes with a rear rotisserie system that includes a motorized rotisserie attachment, electronic ignition, infrared burner, and a light.  Two stainless steel storage cabinets provide stylish cover for your fuel tank.  Also, this grill is designed by top grill maker, Weber so you know there will be a full warrantee and support if anything goes wrong.
If you're looking to add a stylish grill to your backyard or deck that has plenty of features to help you through the grilling season, check out the Ducane Meridian Gas Grill.
Where to Buy: GrillsDirect.com
June 3, 2009
The Ducane Affinity S3400 Gas Grill
is a well constructed high performance grill that might be the right fit for all your outdoor cooking needs.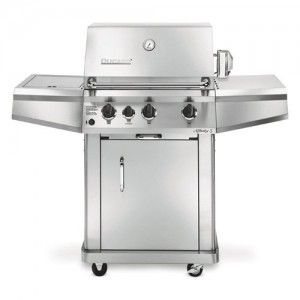 Three stainless steel burners help pump out 36,000 BTU's of grilling power.  Porcelain-enameled heat distribution plates inside the Ducane Affinity S3400 Gas Grill disperse heat for nice even cooking.  The primary cooking area is 343 square inches, just enough to cook for a good sized get together or just cooking up a few quick burgers for dinner.  A 12,000 BTU side burner is a nice touch and has a stainless steel cover so if you're not cooking up sauces, marinades, or side dishes, you'll have a flush flat work space.  The stainless steel cooking grates are easy to clean and maintain.  A 132 square inch warming rack will help keep the quick cooked foods warm while you finish searing those steaks.
The Ducane Affinity S3400 Gas Grill also comes with the Rotis-A-Grate cooking system which has a motorized rotisserie with shaft and forks, as well as a wood chip tray for smoking food.  The lower cabinet hides the gas canister well and the stainless steel look of the grill will be a nice addition to your back yard.  If you're looking for a well built, quality grill, with unique features like rotisserie cooking and a wood chip tray, check out the Ducane Affinity S 3400 Gas Grill.
Where to Buy: GrillsDirect.com